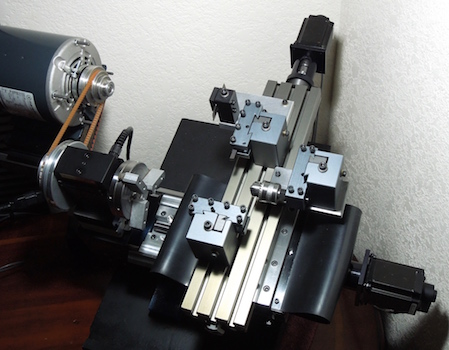 Rapid Traverse Speed up to 80 In/Min.

Single Point Thread Cutting Cycles up to 75 In/Min.

Windows XP, 7,8 or 10 control interface (with USB module option).

Precision Heavy Duty ER-16 spindle assembly.

Powerful 1/4 HP continuous duty AC motor.
Spindle Speed Range: 435 to 1800 RPM.

Spindle On/Off and AUX On/Off control using standard M codes.

DISP (Digital Index Signal Processor) Module for precise Threading Cycles.

X, Z travel of 12" x 6"
Pricing:
Description

Price

TaigTurn 2000DSLS S

yste

m with Mach 3 Turn

TaigTurn 2000AB-DSLS (Ball Screw version) System with Mach 3 Turn

$

29

95.00

$3395.00

USB Module Option: Win XP, 7,8 or 10 operation

$

150.00