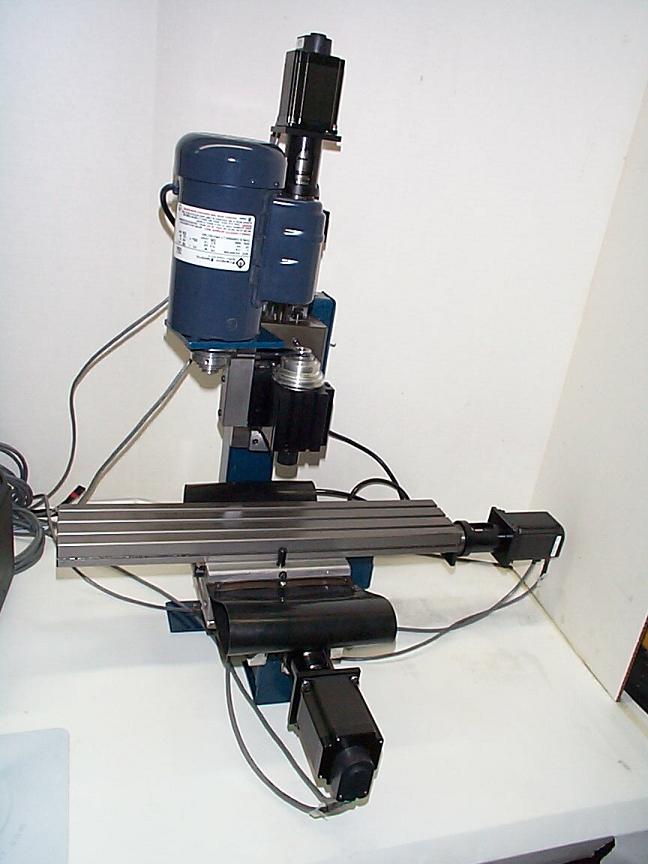 The

MicroMill

DSLS 3000

Desktop Machining System

utilizing advanced Digital Sync Lock Servo (DSLS) control technology

. (Shown with 200 oz-in.

servo step

motors,

high resolution encoders,

Box Way Z-axis assembly

and

way covers)
A full desktop machining system with capabilities to produce
anything from very simple to very complex geometric forms in wood, plastic, aluminum or steel. Applications in jewelry design, prototyping new products,

mold making,

model making

, engraving

and small parts engineering production.
Machine Features:
Position increment resolution

0.000125 in.

Mechanical repeatability 0.0005 in.

Powerful 1/4 HP continuous duty AC motor.

Spindle Speed 1100 - 1

1

000 RPM

Heavy Duty and Precision ER-16 spindle assembly.

Travel: X =

12

", Y = 5.5", Z = 6"

Rapid

Traverse Speed (G00)

up to 100

in/min.

Continuous Contouring Feedrate up to 60 in/min.

Precision Mechanics.

Box way Z-axis assembly with ground steel plate and tapered brass gib.

Adjustable tapered brass gib on X-axis.

Ground steel sliding ways with adjustable brass gib.

Hard anodized aluminum table.

1/2 inch 20 pitch Cr-Mo leadscrews with adjustable split bronze nuts on all axes.
Control Features:
Advanced Digital Sync Lock Servo (DSLS) control using the latest microcontroller chip technology.

High resolution 1600 cpr encoders.

High power electronic chopper drive amplifier.

Standard

computer

parallel

printer port

input.

4th axis amplifier and port.

Input/Output port.

Spindle on/off (M3/M5) and Aux on/off (M8/M9) relay control module
Software

Features:
Custom Windows XP Mach 3 control interface.

2D or 3D Graphic Part Display Window.

Complete G-code set of ALL G-codes.

Complete M-code set.

Import of standard DXF file formats.

Import of standard HPGL file formats.

Import of BMP and JPEG image files.

Custom Wizards containing 20+ common machining operations (Bolt holes, pocketing, thread milling, etc.)

3D Digitizing Probe Input.
Complete System Includes:
MicroMill with

New Powerful

1/

4

HP spindle motor

.

Pulley set with drive belt.

3/16", 1/4" collets with collet closer

DSLS

Electronic

Control Driver

Unit

Custom Mach 3 software control interface.

4th Axis Amplifier and Port Included

Input/Output Port Included

200 oz-in.

stepping motors

with integral high resolution encoders

Printer cable, power cable

User's manual

1 Year system warranty
Computer System Requirements:
Windows XP, 7 (32 bit)

computer with Pentium

1 GHz

or higher processor required.

20 GB Hard Drive.

512MB Ram.

Standard DB25 printer port output
Computer System Requirement
s with USB Option:
Windows XP, 7, 8 or 10 with > 1GHz processor

20 GB Hard Drive.

512MB Ram.

USB 2.0 Port
System Options:
Pricing:
Description

Price

MicroMill

DSLS 3000

S

yste

m

with Mach 3

MicroMill DSLS 3000AB (Ball Screw) System / Mach 3

$

29

95.00

$3495.00

Complete MicroMill DSLS System with

4th

A

xis

DSLS Rotary Table

and Adjustable Tailstock

With Ball Screws

$

3695

.00

$4195.00

USB Module Option: Win XP, 7,8 or 10 operation

$

150

.00